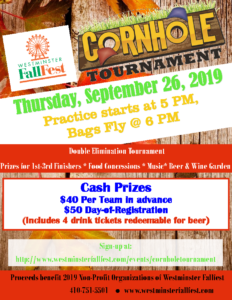 NEW! -Register Online- 
When: September 26, 5:00 PM practice, BAGS FLY at 6:00 PM
Where: 11 Longwell Avenue, Westminster, MD 21157
Prizes: 1st $200, 2nd $150 and 3rd $50
Before you enter, what you need to know:
Sign-in/Registration begins at 5:00 PM.   The bags will fly at 6:00 PM.
All boards and bags will be provided and set up for you.
This tournament is held at 11 Longwell Ave., Westminster, MD.
Alcohol must be consumed within the designated drinking area.  If your drinking becomes a problem, you will be flagged, your team will be forfeited from the tournament and escorted off the tournament grounds.  State law prohibits bringing your own alcohol.
Click Here for Official Rules
Download our PDF Fill-in Cornhole Tournament Team Entry Form – Click Here